Have you ever thought of  playing iIOS Games on Mac? With X-Mirage installed on your Mac,  you can mirror iOS devices screen to any Mac. That means what you see from your Mac is what is displaying on your iOS devices. You can show show others how great you plays that game. X-Mirage also supports mirroring multiple iOS devices simultaneously. You can mirror your iOS games to one Mac and play against your friends or families.
X-Mirage works on OS X Snow Leopard, Lion and Mountain Lion. Just download, install and run it on your Mac, tap AirPlay button on your iOS devices and select your Mac in the available AirPlay receivers and turn on Mirroring. Then you can see iOS devices screen on the Mac.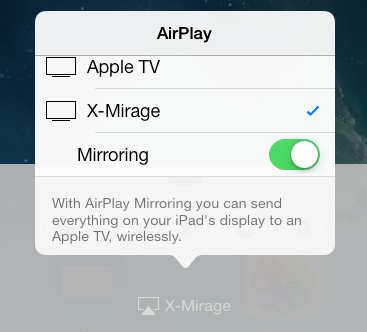 Mirror multiple devices to one Mac
Some games support dual-screen, which means you can use the iPad as the controller — both while navigating through menus and in race mode — while the game appears only on your TV, of course you will need an Apple TV. But now, with X-Mirage, you can play these games on your Mac via X-Mirage, which is much cheaper, also use your iPad as the controller.
Play Real Racing 2 HD on Mac with iPad as controller